At ACW Engineering Services we offer machine and parts assembly Hampshire clients can count on. This is something we have been doing since 1987. Our customers come from various areas. Some belong to the nuclear and defence industries. Others are from the aerospace and yacht racing ones. Whatever the case, we aim to provide nothing less than a first class experience.
New businesses who want to manufacture physical products can face big obstacles. One of the toughest is developing cost efficient ways to create them. Making everything by hand may suffice in the initial phases. However, demand will grow in time. As this happens, the business may need to find methods of speeding things up. Assembly line manufacturing is a reliable approach that can offer a number of advantages.
Boost productivity
We will begin with the main benefit of an assembly line. It is that they let mechanisms and workers specialise in certain tasks. This can increase productivity as well as quality.
Mass production
With a large-scale assembly line, you are free to mass produce goods. One person working alone could not possibly offer this kind of capacity. Due to the excellent productivity of mass production, there will also be lower costs per unit.
Uniform goods
There is another advantage to using an assembly line during manufacturing. It is that it helps to ensure products are uniform. In other words, there is not much chance of your product showing a lot of variation. It is possible for a single worker to fabricate something from scratch. However, the results here could be substantially different from what someone else will produce. As a result, you would be better off sticking to an assembly line if you need uniformity.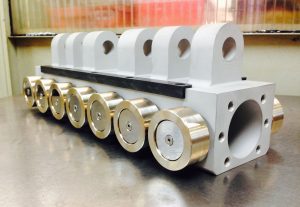 At ACW Engineering Services, we can attend to any assembly requirement you have. It's true that we are a small establishment. Nevertheless, this hasn't stopped us from working on major projects. We work with several other fantastic companies to make the range of services we can offer even broader. Therefore, we are easily the best option for machine and parts assembly Hampshire has.
Simply come to us with your requests and we will get the job done. Get in touch today if you need our help.